Mercury Engineering an SSI registered unit was established in 1971 with the aim of manufacturing indigenously designed mechanical power transmission systems (units) to suit the conditions and requirements of Indian Machinery Manufacturing Industries.

Since then Mercury Engineering has catered to the needs of large number of satisfied customers with Helical Geared Motors, Adoptable Gear Boxes, D.C. Motors, and DC Geared Motors.


MERCURY HELICAL GEARED MOTORS.

A product of extensive experience in design and strict quality control, Mercury Helical Geared Motors are built as a single (one) unit to give Co-axial, compact and sturdy construction for slow speed and high torque power transmission. Mercury Geared Motors are available in the range of 0.25 to 10H.P.both in foot and flange mounting to suit ones requirement. Reputed for their dependable performance Mercury Geared Motors have a wide range of applications varying from Cement Plants, Dairy Industries, Textile Industries, Chemical Plants, Engineering & Plastic Industries etc.

MERCURY HELICAL GEAR BOXES.

Mercury Adoptable Helical Gear Boxes have been specially designed for the benefit of our customers who have standardized on a particular make of motors. Mercury Gear Boxes can be easily fitted with any I.E.C. frame size, flange type electric motors. Mercury Gear Boxes are available in the range of, 0.5 H.P. to 5 H.P. both in foot and flange mounting, and are continuous rated for uniform and intermittent shock loads.

SALIENT FEATURES OF MERCURY GEARED MOTORS & GEAR BOXES.

Gear Housing : The reduction gear trains are housed in a sturdy fine grain cast iron housing having ample surface
area for heat dissipation.


Gear & Pinions : Made from steel, gears & pinions are hobbed on imported machine with suitable helix angle
for smooth operation and maximum load carrying capacity. They are also

suitably heat treated for almost zero distortion. and long life operation.


Output Shafts : Manufactured from medium carbon steel and ground finished to close tolerance.

Electricals :


a) Motors : i) Standard : as per : IS : 235/1961

II) Type : TEFC Squirrel cage induction type.

III) Power supply : 415 Volts, 3 Phase, 50 Hz, A.C.

iv) Insulation Class B

Motors with class F insulation can also be supplied.

b) Gear Motor Unit : Standard design or custom built to suit the needs of the customers,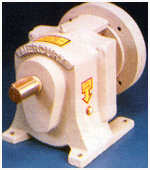 Mercury Gear Box
Lubrication : Mercury Geared Units are supplied without oil, Good quality straight mineral oil of proper grade should be used. The Lubrication of the gears is achieved by splash method. Oil filled upto the level indicator, ensures proper lubrication of the gears and bearings in the unit. Recommended Oil : SAE-90
Testing : All components are thoroughly inspected at various stages of manufacturing and assembling.
The completed units are tested on no load, for noise level, oil leakage, output speed and temperature rise.
ROUTINE MAINTENANCE :
Check regularly and maintain proper oil level in the geared unit for trouble free running.

Keep the breather hole in the oil filler plug, clear.

Drain the oil and flush, and refill the unit with clean oil after 500 Hrs. of initial running. Subsequently oil change will be required depending upon the working conditions.
Selection Procedure :
Compute the output r.p.m. & h.p. required by the driven machine.
Determine suitable service factor from the table.
Select the suitable Geared motor/Gear box corresponding to h.p. & output r.p.m. from the table.
Note : Geared motors rated in the table are for service factor 1.4 For higher service factor please contact us with complete application details. We will help you select the suitable geared motor.
OTHER PRODUCTS : The range of our other products includes.
Two speed geared units by pole changing method with speed selector switch.

D.C. shunt geared units by for variable speed drives.

Geared units other than standard voltages can also be manufactured.
DESIGNATION :

| | | |
| --- | --- | --- |
| G 0 | 71F | 6 P. |
| Gear Size | Motor frame size | No. of poles |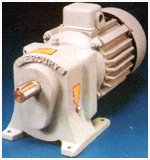 Mercury Geared Motor
We have great pleasure in pleasure in introducing ourselves as the authorized dealers of 'MERCURY' make Helical Geared Motors, Adaptor Gear boxes, Inline gear boxes and Custom built geared motors and gear boxes.

These geared motors and gear boxes have found wide applications in the field of machine manufacturers where speed reduction and torque is the prime requirement.

'MERCURY' A.C. geared motors consist of squirrel cage induction type, T.E.F.C., having class B insulation, continuously rated in S1 duty, operating on 400 / 440 volts, 3 Ph., 50Hz, A.C. supply suitable for continuously running. Motors with other duty (S2, S3 etc) can also be incorporated with gear units.

We have great pleasure in offering you our range of products to enable you to select a proper drive for your application.

1) AC Geared motors in foot and flange mounting. ( 0.25 H.P. To 10.0 H.P. )
2) AC Geared motors in voltages other than 400/440, 3 Ph, i.e. 110 volts, 380 volts etc. )
3) Adaptor Helical Gear Boxes suitable for I.E.C. Frame size B5 construction motors.
4) Custom built geared motors & gear boxes.
5) D.C. Shunt motors and D.C. Geared Motors ( 0.5 H.P. to 2.0 H.P. )

As you are a well known consumer of these units, we would like to introduce ourselves as a registered SSI unit manufacturing the above said units for the past 30 years and serving the Indian and oversea Industries.